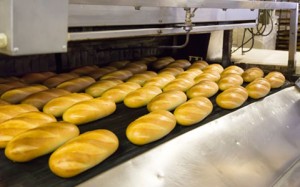 Watch the Equipment Cleaning Tutorial
How to clean conveyor belts with Alconox®:
Add 2/3 cup of Alconox® detergent to 4 gallons of warm water
(See Table 2).
Remove conveyor belts from equipment.
Using a long handled scrub brush, dip brush in Alconox® solution and coat conveyor belt with detergent. Scrub harder on stubborn buildup.
Let sit for 10 minutes. Do not allow detergent to dry.
Rinse off detergent with a hose.
How to clean small conveyor belts with Alconox®:
If belts can fit into a commercial size sink or tub then use 2 Tbsp per gallon of Alconox® detergent in hot water. Mix solution well.
Let soak as long as needed.
Use a scrub brush to loosen caked on grease before and after soaking.
Rinse thoroughly with tap water and dry thoroughly.
 How to clean exterior surfaces on ovens and toasters with Alconox®:
Spray prepared Alconox® detergent directly on exterior surface, or apply with towel or sponge soaked in solution.
Wipe surface gently until soil is removed.
Follow with a clean water rinse.