Fryer Hood Cleaning Video Tutorial
Alconox® Powdered Precision Cleaner is a powerful hard surface detergent that is non-caustic, drain-safe and biodegradable. It's perfect for cleaning commercial deep fryers and their hoods and baffle filters.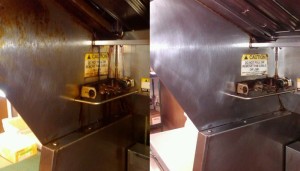 How to Clean Fryer Hoods:
If possible, move the fryer away from the hood.
Add 2/3 cup of Alconox® detergent to 4 gallons of warm water
(See Table 2).
Use with long-handled brushes, scrub pads, or a scraper if necessary to clean hood.
Rinse and dry thoroughly.
Note that there is a silicone caulk along interior seams. Be careful not to break this seal with scraper.
How to Clean Fryer Hood Baffle Filters:
Remove hood filters.
Add 2 cups of Alconox® detergent to 12 gallons of warm water in one basin of a 3 compartment sink (See Table 2).
Soak overnight in Alconox detergent solution.
Use a 2 inch bottle brush to get in the "grooves."
Run the filters through the dishwasher or rinse thoroughly.
If using Alconox® to clean fryer, filters can be placed in fryer during cleaning and then rinsed thoroughly.