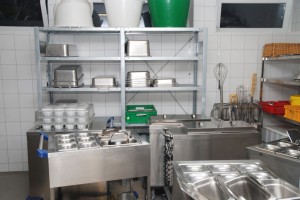 Download Protein Safety Application Sheet
How to clean storage containers exposed to raw or cooked proteins with Tergazyme®:
Make a fresh solution of Tergazyme® using 2/3 cup in 4 gallons of warm water (See Table 2). For effective cleaning only use warm water, NOT hot water (Do Not exceed 130 deg F temperatures), to avoid having the hot water degrade the enzyme. Tergazyme solution should be made fresh daily.  A 1% Tergazyme solution is designed to give good reliable cleaning performance for 8 hours at 120 deg F.
Scrub surfaces thoroughly. For heavy residue, let Tergazyme® solution sit on equipment for 20 minutes.
Scrub any remaining tough spots.
Rinse thoroughly with tap water.
Dry thoroughly.