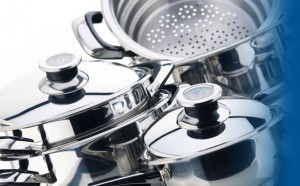 Download Cookware & Smallware Application Sheet
Download Maintaining Stainless Steel Application Sheet
When cleaning cookware and smallware, you need commercial deep cleaning solutions that are powerful enough to penetrate, break down, and help lift and remove food soils. Cleaning solutions that are as safe to use and non-caustic as they are highly-effective. You want nothing but a deep commercial grade clean right down to the surface. That's the power of this essential pair of critical cleaning solutions for cookware and smallware: Liquinox™ and Alconox®. Both are specially formulated to clean wares and leave them squeaky clean and residue free — with minimum effort required. Highly concentrated to save money and shelf space, both Liquinox and Alconox are biodegradable and drain safe. Professional food service cleaning solutions that outperform — from the critical cleaning experts at Alconox.
Questions: Click for the Answer.
Is your detergent drain safe and safe on coated pans?

Are your detergents USDA food safe cleaners that can be used to clean food contact services?

Are there other cleaning variables, besides increasing cleaning time, which would allow for a more thorough cleaning process?

How can I remove calcium and lime scale from a steam oven or holding cabinet?