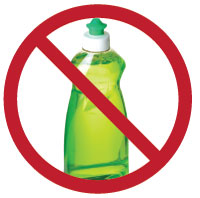 If your commercial kitchen is using dish soap to clean most surfaces in the back-of-the-house, it's time to get serious about food safety and cleanliness. Dish soap might work well for the dishes, but it's not ideal for stainless steel, butcher blocks, grills, etc.
The type of detergent to use depends on the three things:
The cleaning method – manual, soak, machine.

The surface being cleaned – wood, stainless, plastic, grout, tile, teflon.

The soil being removed – oils, fats, proteins, heavy scales, inorganics, particulates.
Good, all purpose, back-of-the-house cleaners include AlconoxⓇ and LiquinoxⓇ. For stainless or equipment with scale, CitranoxⓇ is the best bet.  If you're fighting proteins, you need an enzymatic cleaner like TergazymeⓇ.
Have a question about what detergent to use or how to clean something in your restaurant? We've got all the answers here at our Commercial Cleaning Checklist.