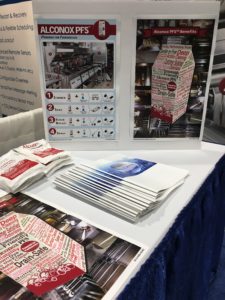 If you visited Alconox, Inc. at the RFMA Conference in Orlando, FL, March 5-7, then you likely got detergent samples and expert technical support. Booth #838 was hopping and we enjoyed meeting each and every one of you.
If you're interested in learning even more about us, visit https://alconoxfoodservice.com/ to learn more about how our detergents are formulated to meet various cleaning application needs in the commercial kitchen. Or if you have a specific application question jump right into our Frequently Asked Questions or directly ask our experts at Get Cleaning Advice.
Alconox, Inc. has been in the business of critical cleaning — down to the metal and leaving no residue — for over 70 years in industries where clean is crucial. We believe Foodservice is one of those industries.
We are proud to offer our commercial kitchen customers, Alconox® detergent, a non-caustic, drain safe and biodegradable detergent ideal for use in deep fryers and other commercial kitchen applications.