Commercial Kitchen Cleaning: Smallware and Cookware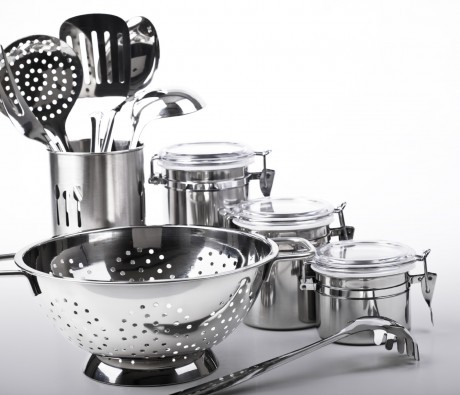 Q. What are some best practices when it comes to cleaning smallwares and cookware?
A. When cleaning cookware and smallwares you need cleaning solutions that are powerful enough to penetrate, break down and help lift and remove food soils. But these commercial detergents also need to be drain-safe, safe on aluminum and coated pans, and non caustic.
Enter Alconox PFS® Powered for Foodservice and Liquinox® Critical Cleaning Liquid Detergent — an essential pair of critical commercial kitchen cleaning solutions for cookware and smallware. Both are specially formulated to leave wares clean and residue free with minimum effort required. Both detergents can be used to clean stainless steel, metal, aluminum, soft metals (if rinsed promptly), glass, plastic, rubber, fiberglass, porcelain and ceramic.
Highly concentrated to save money and shelf space, one gallon Liquinox makes 100 gallons of detergent solution and 4 lb Alconox PFS makes 50 gallons of detergent solution.
Liquinox detergent is a perfect everyday sink-side detergent especially effective when used to clean glasses and other barwares. It is a water-based, concentrated manual cleaner. It's perfume-free and free-rinsing for reassurance that wares are cleaned right down to the surface, with no residue left behind. Liquinox is a versatile hard-surface cleaner and is biodegradable, phosphate-free, and non-corrosive.
Alconox PFS is ideal for cleaning tough oils, grease, carbon build-up, and food residue on stainless steel smallware and cookware. A hot Alconox PFS detergent solution effectively lifts stubborn cooked-on soils off pots and pans and returns cookware to like-new, down to the surface clean you need. Alconox PFS is drain-safe and made in concentrate to save money and shelf space.