The Versatile Cleaning Power of Alcojet®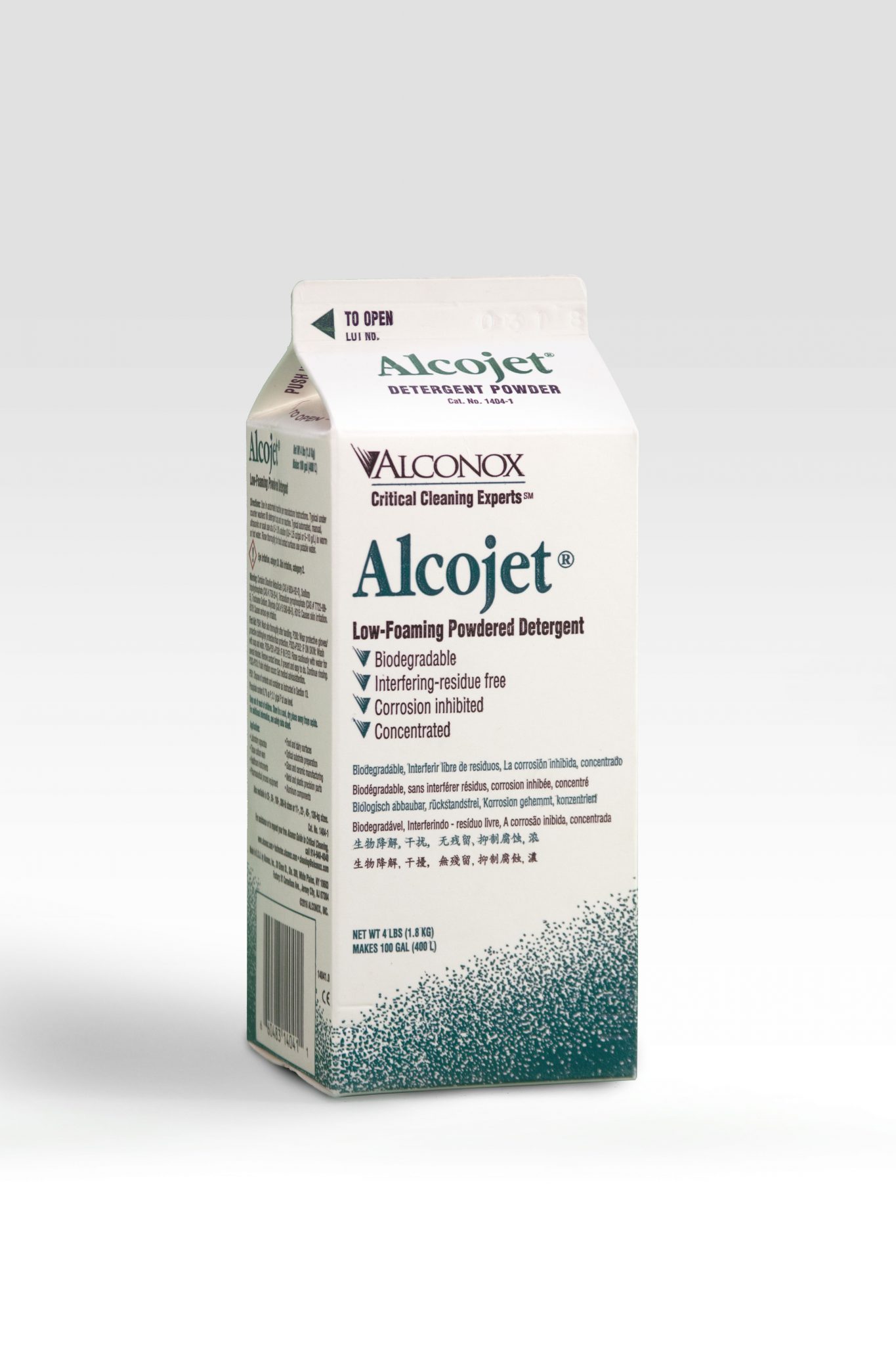 Introduction
When it comes to cleaning surfaces effectively and efficiently, Alcojet® Low-Foaming Powdered Detergent  is a game-changer. This low-foaming detergent is specially formulated to tackle heavy degreasing tasks, making it an essential tool in a wide range of industries. Alcojet detergent is a powerhouse when it comes to manually or automatically removing grease and oil from different surfaces. It is particularly useful in industries such as manufacturing (pharmaceutical, biotech, medical devices), healthcare, electronics, cosmetics, solar, food, nuclear, cannabis, and optics. Its ability to effectively clean various materials makes it a versatile solution for multiple cleaning applications.
How to Use Alcojet
Prepare a solution by adding 2/3 cup (150g) of Alcojet detergent to 4 gallons (15L) of warm/hot water in a bucket.
Dip a long-handled scrub brush into the Alcojet solution and scrub the surfaces that require cleaning.
Allow the solution to sit for 10 minutes, ensuring maximum grease and oil removal.
Rinse thoroughly and let the surfaces dry.
Benefits of Alcojet in the Foodservice Industry
Alcojet detergent stands out as an indispensable cleaning solution, offering a multitude of advantages tailored to the rigorous demands of restaurant and food service establishments. Here's an in-depth exploration of why Alcojet is the go-to choice for maintaining impeccable cleanliness in your foodservice environment:
Versatile Cleaning Applications:
Alcojet detergent serves as a versatile cleaning agent suitable for an extensive array of surfaces and equipment. Whether you need to restore the sparkle to your wine glasses, sanitize restaurant equipment, clean your fryers, or cleanse your counters, floors, sidewalks, or driveways, Alcojet gets the job done with unparalleled efficiency.
Flexible Cleaning Methods:
Alcojet detergent integrates seamlessly into various cleaning methods, ensuring convenience and adaptability. Whether you are manually cleaning or cleaning in an automated system, Alcojet enhances your cleaning protocols. In cases where manual cleaning is necessary, the use of proper skin and eye protection guarantees safety and effectiveness.
USDA Approval:
Alcojet is an approved detergent by the United States Department of Agriculture (USDA) for use in federally inspected meat and poultry plants. This endorsement underscores its reliability and safety, making it an ideal choice for maintaining hygiene in food processing facilities.
FDA Certification:
For an added layer of assurance, Alcojet holds certification from the Food and Drug Administration (FDA). This certification emphasizes its suitability for use in food-related environments, making it a trustworthy option for ensuring sanitation in your restaurant or foodservice establishment.
Conclusion
In summary, Alcojet detergent is an indispensable ally for restaurants and food service establishments seeking exceptional cleanliness standards. Its versatile applications, regulatory endorsements, outstanding soil removal capabilities, and compatibility with diverse surfaces and cleaning methods make it an essential component of your hygiene arsenal. Trust Alcojet to elevate your sanitation practices and maintain the pristine conditions necessary for food safety and customer satisfaction.