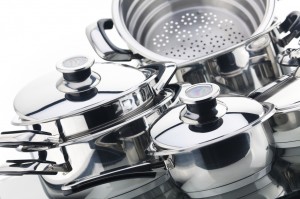 Q. I need information for cleaning and putting back a shine on stainless steel pots.
A. Soaking stainless steel pots in a solution of Alconox® detergent will bring shine back. Simply fill your sink with hot water and add a 1/4 cup of Alconox powdered detergent. Let the pots soak for 30 min and rinse thoroughly with tap water. WahLah!
Learn more about cleaning stainless steel on our Stainless Steel FAQ page. We also have a Stainless Steel Job Aid available here. And tips on removing Rust and Scale here.
Have your own cleaning question? Get custom cleaning advice from our experts here at Ask Alconox.