Download Tableware Application Sheet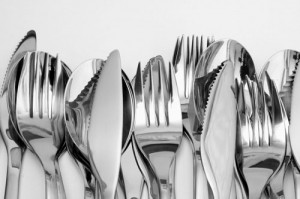 Norovirus, E. Coli, and Listeria are three great reasons to keep tableware spotless. That and your restaurant's reputation.  Nothing keeps the customers away like having to request new cutlery.
When cleaning tableware you want cleaning solutions that are powerful enough to penetrate, break down and help lift and remove food soils. Cleaning solutions that are as safe to use and non-caustic as they are highly-effective. You want nothing but a deep clean right down to the surface.
That's the power of this essential pair of critical cleaning solutions for tableware: Liquinox™ and Alconox® are both specially formulated to clean wares and leave them squeaky clean and residue free—with minimum effort required. Highly concentrated to save money and shelf space, both Liquinox and Alconox are biodegradable and drain safe. Professional cleaning solutions that outperform—from the critical cleaning experts at Alconox.
Questions: Click for the Answer.
Should I use Rinse aids in my commercial dishwasher?

What's the best way to manually clean dishware and plates?

How do I clean tableware with food residue?