Fryer Cleaning Safety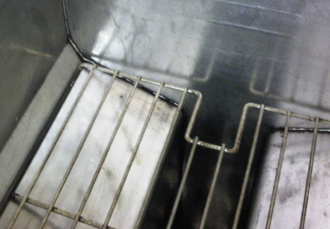 Q: What are some fryer cleaning safety tips?
A: Don't fear the fryer. Both our fryer cleaning products, Alconox PFS® Powered for Foodservice and Alcojet® Low-Foaming Powdered Detergent, are non-caustic, drain safe and biodegradable detergents — ideal to use as part of a solid sustainability program. Alconox PFS and Alcojet have been specially formulated to safely remove build-up caused by cooking oil in order to return your fryer to 'like new' condition.
As an example of their safety, consider the pH of our product, Alconox PFS, which is 9.5. This is the same pH as Dawn dish soap. Exposing skin to Alconox PFS, like retail soap, for over 15 minutes could cause some irritation, but the pH is extremely neutral. If AlconoxPFS comes in contact with skin, simply rinse it off.
For companies needing a low-foaming option, Alcojet, pH 11, can also be used. This detergent, while slightly more alkaline, is also not corrosive for skin contact if rinsed off (but best to use gloves when handling). Alcojet is sometimes the better choice for some because tubes and hoses inside machines are easier to rinse when the detergent is specifically designed to be a low-foamer.